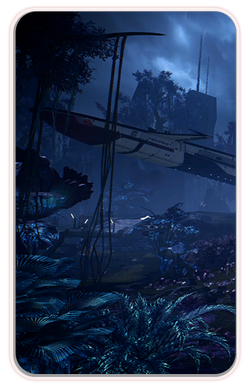 Sage Amurd
's sister,
Amara
, left
Mithrava
years ago. He longs to see Amara again, but she likely moved away from Daar Pelaav when it was overtaken by the jungle. However, records of her whereabouts might still exist.
Acquisition
Talk to Sage Amurd (marked with a
) in Mithrava to acquire this mission.
Walkthrough
ON HOLD: Wait for a way to cross the chasm to Old Pelaav
The mission objective is on the other side of an impassable ravine, so this mission is on hold until you reach Go to Taavos' Roekaar Camp in A Dying Planet. At that point, Roekaar will have enabled the bridge across the chasm, so the mission can continue.
Locate records in Old Pelaav
At the navpoint
in the Roekaar encampment in Old Pelaav, one of the buildings on the right will have an Archive System. Interacting with the archive reveals that it lacks power. Hop out of the nearby window to reach a Generator. Repair the generator and return to the Archive System to activate it. A hologram begins playing and Ryder is able to learn that Amara Dosen was moved across the planet.
Return to Sage Amurd
Back in Mithrava, talk to Sage Amurd to give him the data drive with his sister's information. He could go visit her, but he is afraid of leaving his home. You can either let him decide on his own, or encourage him to see his sister.
Aftermath
If you don't advise Amurd on what to do, you get this email.
If you encouraged Amurd to visit his sister, you get this email.
Rewards
Community content is available under
CC-BY-SA
unless otherwise noted.