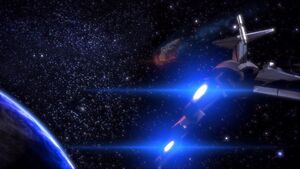 Bring Down the Sky was the first downloadable content for Mass Effect and was released on March 11, 2008. The mission takes place in the Asgard system, where an asteroid has been hijacked and sent on a collision course with the human colony of Terra Nova.
Bring Down the Sky is one of two DLC packs released for Mass Effect. The other is Pinnacle Station.
Description
Edit
A batarian extremist group has hijacked a mobile asteroid station in the Asgard system, setting it on a collision course with the nearby colony world of Terra Nova. Only you, and the hand-picked crew of the Normandy, can save the millions of innocent civilians before the asteroid completes its deadly descent.
This first downloadable content pack further expands the Mass Effect universe and continues the adventures of Commander Shepard and the Normandy crew.
The pack includes a new system, three assignments, and about 90 minutes of gameplay. The pack also introduces the batarians.
Assignments
New System
New Achievement
PC Pack Code Issues
Edit
Originally on the PC version of Mass Effect, a code was provided for the purchaser to obtain a copy of Bring Down the Sky for free.
For players who now wish to obtain this DLC, go to EA's help page to download the DLC installer. A code is no longer required to authorize the installer. Those who receive a "You have reached the activation limit." message will need to use the Contact Us feature on the EA site to unlock it.
Bring Down the Sky was originally released for 400 Microsoft Points on the Xbox 360 and 400 BioWare Points on PC. The Xbox 360 price was eventually reduced to US$1 (80 Microsoft Points before Microsoft switched to Local Currency), and the pack is also included for free with the Platinum Hits Edition of Mass Effect for Xbox 360. In addition, the pack is currently available for free on the PC version, and it is included in the PC and PlayStation 3 editions of Mass Effect Trilogy.
Community content is available under
CC-BY-SA
unless otherwise noted.