| | |
| --- | --- |
| | This article is about the location in Mass Effect 3. For the Citadel's embassies in Mass Effect, see Embassies. |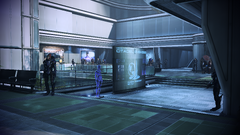 The Citadel Embassies is a location on the Citadel in Mass Effect 3. The Citadel Embassies features Councilor Donnel Udina's office, Commander Bailey's C-Sec office, and a Spectre outpost.
Points of Interest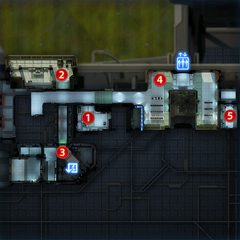 Spectre Office

Spectre Terminal - allows Spectres to view and take part in developing situations in Citadel politics and security.
Procurement Terminal - allows Spectres to purchase specialized equipment, as well as items needed to complete side-missions that have been missed.
Shooting Range - for weapons firing practice. Includes a workbench to allow modification of weapons. The range features three targets with health, shield, and armor bars. The targets can be moved to various distances across the range. Ammunition and grenade refills are placed near the target controls for convenience.
Miranda Lawson may be encountered here via a hologram.

Shops:
| | |
| --- | --- |
| | Embassy Offices |
Office Suite

The hanar Diplomat can be found here, along with volus Ambassador Din Korlack's recordings. This area is only accessible during a specific mission.
Side Missions
Community content is available under
CC-BY-SA
unless otherwise noted.