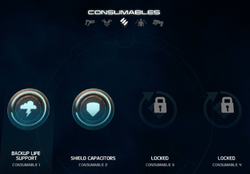 Consumables are single-use items for Pathfinder Ryder during exploration and combat throughout the Heleus Cluster.
Overview
Edit
Consumables provide a temporary benefit to Ryder at Ryder's time of choosing. Different consumables provide different temporary benefits.
The Consumables screen can be accessed at any Loadout terminal. The Consumables screen initially allows equipping two consumables by default. Additional Consumables slots can be unlocked through the Military cryo pods Always Prepared and Versatility.
Additional consumables can be found during exploration, looted from enemies, and purchased from merchants.
Each type of consumable counts as one item (7 total items) towards the Inventory item limit as long as Ryder has one of each consumable type. 50 Backup Life Supports only count as ONE item and so on for the other six consumables.
Mechanics
Edit
Consumables items selected on the Consumables screen make that Consumable available for Ryder to use during gameplay. Ryder can continue to use a Consumable item (one at a time) until the Consumables supply in question is exhausted.
| Icon | Name | Rarity | Description | Base Cost |
| --- | --- | --- | --- | --- |
| | Backup Life Support | Common | Boosts life-support capacity and allows a user to survive hazardous environments longer outside of the Nomad. No effect on combat. | 160 |
| | Cobra RPG | Rare | Capable of taking down most enemies with a single projectile. | 2400 |
| | Cryo Ammo | Common | Shots slow enemies and deal moderate bonus damage to armor. Lasts for the next three clips of the currently equipped gun. | 240 |
| | Disruptor Ammo | Common | Shots stun enemies and deal large bonus damage to shields. Lasts for the next three clips of the currently equipped gun. | 240 |
| | Incendiary Ammo | Common | Shots burn enemies and deal large bonus damage to armor. Lasts for the next three clips of the currently equipped gun. | 240 |
| | Overdrive Pack | Common | Immediately reloads all weapons, recharges all powers, and temporarily boosts accuracy and damage reduction. | 160 |
| | Shield Capacitors | Common | Boosts maximum shields. Restores current shielding to the new maximum. The boost lasts until shields are broken. | 160 |