Zaeed Massani is, without a doubt, the most feared mercenary and bounty hunter in the galaxy. His services have been retained by Cerberus at extremely high cost. He is currently awaiting pickup on Omega.
Acquisition
[
]
This mission is acquired automatically after completing Freedom's Progress, provided you have the relevant DLC installed.
Walkthrough
[
]
The Illusive Man, Cerberus' mysterious leader, has asked Commander Shepard (as part of providing a list of potential recruits for Shepard's team) to travel to Omega, in order to pick up the infamous mercenary Zaeed Massani, with whom he has made an arrangement in order to recruit him.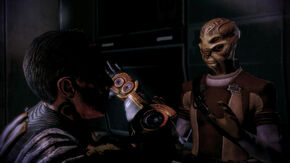 Upon docking on Omega, Commander Shepard should almost immediately run into Zaeed, who is brutalizing a prisoner. After a short dialog (multiple options regarding his attitude with the prisoner), he will propose, in fulfillment of his arrangement with the Illusive Man, to board the Normandy and wait for Shepard there, until you can discuss further. At the end of the conversation, the prisoner tries to escape, after which Zaeed shoots him in the leg.
Zaeed will be in the previously inaccessible Starboard Cargo Hold on the Engineering Deck of the Normandy. The mission Zaeed: The Price of Revenge, along with the Faia system of the Ismar Frontier cluster (and the Aquila system as well, if Firewalker Pack is not installed) will be unlocked after the completion of this mission.