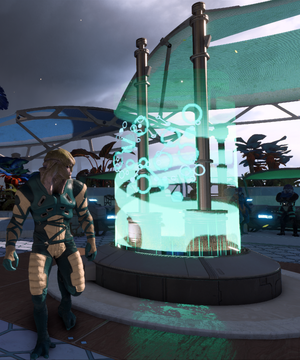 The Holographic Message Terminal is a large angaran device that functions as a local news/bulletin system. It is installed in various locations on Aya's capital city.
The device is composed of two metal rods on a circular base projecting a rotating cylindrical holographic display. Large obstructions (like someone walking into it) will mess up the display, and will remain that way until it is removed.
Aya's citizens use the terminals to store numerous messages for the Nexus and its extragalactic denizens. Enroh Bosaan wants Pathfinder Ryder to download these messages and deliver them to the Andromeda Initiative.
Entries
[
]