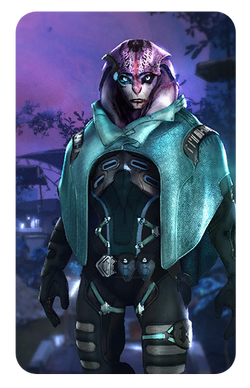 Jaal
has asked
Ryder
to accompany him to
Havarl
and meet his mother.
Acquisition
Edit
After completing the two missions above there is an email from Jaal inviting Ryder to meet Sahuna Ama Darav the next time they are on Havarl. Acknowledging the email starts the mission.
Accompany Jaal to Havarl
Edit
Head to Pelaav Research Station on Havarl and the navpoint
leads to an Angaran Shuttle. Take the shuttle to Jaal's childhood home to meet his mother and numerous siblings.
You will be given an interrupt to hug Sahuna just after meeting her. Sahuna says that Jaal is her favorite and then proceeds to list Jaal's hobbies and pursuits. Sahuna then says she has to leave and is late for a Resistance meeting.
Jaal explains that each child is Sahuna's favorite. Next you meet the extended family and learn a little bit about Jaal's past.
Jaal then shows Ryder his room, a kett weapon he dismantled as a child, a kaerkyn that he also dismantled, and activates a star map that lightens up the room. Jaal says he wants to take that apart as well.
If you have flirted with Jaal before, there is now an opportunity to deepen the relationship.
Aftermath
Edit
Several emails will arrive after this mission.
If the relationship with Jaal is platonic:
If the relationship with Jaal is romantic:
Sahuna will send three emails all with the same title.
Community content is available under
CC-BY-SA
unless otherwise noted.