New Pokemon Games - The Loop
Play Sound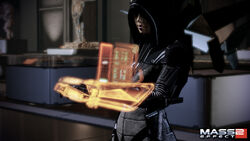 Kasumi - Stolen Memory is a DLC pack for Mass Effect 2, that includes the final squadmate, a new weapon, new missions, and new areas. The pack was released on April 6, 2010.[1]
Description
Cerberus has procured the service of Kasumi Goto, the galaxy's most enigmatic master thief. In return for her help, Kasumi has asked Shepard's help on a dangerous heist to infiltrate the vault of a deadly master criminal named Donovan Hock. Gain Kasumi's loyalty on the planet Bekenstein, where Hock is throwing a party for some of the galaxy's richest and most deranged criminal minds to recover data of great importance to Kasumi... and to the galaxy at large. Includes a new squad member, mission, weapon, research upgrade, casual outfit, and achievement.
Content
Pricing
Kasumi - Stolen Memory is available for $6.99 USD on Xbox 360 and 560 BioWare Points on PC. It is included on the disc of the PlayStation 3 version of Mass Effect 2.
References