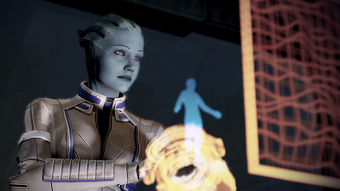 Lair of the Shadow Broker is a DLC pack for Mass Effect 2 that was announced on July 22, 2010 [1] and released on September 7 for Xbox 360 and PC.[2] Due to technical issues, Lair of the Shadow Broker is not available in parts of Central and Eastern Europe,[3] although players from these regions are able to install and play the DLC if they are using the English version of the game.
The pack concerns Liara T'Soni and her history with the Shadow Broker. Associate Producer Michael Gamble has described Lair of the Shadow Broker as the "...biggest DLC yet, period." It is the first piece of DLC to begin to expand the story in preparation for Mass Effect 3.[4] The DLC can be played during the game or after the suicide mission, but the dialogue is "weighted heavily toward the assumption that the player had already completed it."[5]
Description
Liara T'Soni is tracking down the mysterious Shadow Broker, and no one is safe. She'll do anything to recover the man the Broker kidnapped... and the Shadow Broker's agents will do anything to stop her. Team up with Liara and chase clues from the luxurious heights of Illium to the Shadow Broker's own secret lair. This DLC adds the Shadow Broker intel center, new research, and five new achievements – and the chance to continue a relationship with Liara.
Content
One mission:
One location:
One bonus power:
Six upgrades:

Assault Rifle Damage
Damage Protection
Heavy Pistol Damage
Shotgun Damage
Sniper Rifle Damage
Submachine Gun Damage

Two cabin items:
Pricing
Lair of the Shadow Broker is available for $9.99 USD on Xbox 360 and 800 BioWare Points on PC. It is included on the disc of the PlayStation 3 version of Mass Effect 2. Like most of the DLC for the original Mass Effect trilogy games, it is also included in Mass Effect Legendary Edition.
References