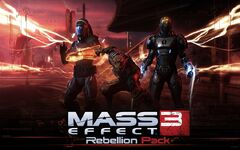 Mass Effect 3: Rebellion Pack is a DLC pack for Mass Effect 3. For Xbox 360 and PC, it was released worldwide on May 29, 2012. For PlayStation 3, it was released in North America on May 29, 2012 and in Europe on May 30, 2012. The Rebellion Pack is available at no additional cost.[1] It is included with copies of Mass Effect 3: Special Edition for Wii U.[2]
Content
Two maps:
Four weapons:
One match objective:

Teams must retrieve high-priority packages and escort them to a designated extraction zone. This objective randomly occurs during waves 3, 6, and 10.

One equipment slot:

The Gear slot offers players a persistent bonus that does not expire after the end of a match. Gear items include weapon upgrades and character enhancements that can be obtained by purchasing equipment packs.
References