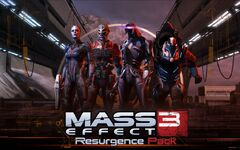 Mass Effect 3: Resurgence Pack is a DLC pack for Mass Effect 3. For Xbox 360 and PC, it was released worldwide on April 10, 2012. For PlayStation 3, it was released on April 10, 2012 in North America and April 11, 2012 in Europe. The Resurgence Pack is available at no additional cost.[1] It is included with copies of Mass Effect 3: Special Edition for Wii U.[2]
Content
Two multiplayer maps:
Three weapons:
Four multiplayer consumable items:

Strength Enhancer – Applies a melee damage boost for one mission.
Targeting VI - Applies a headshot damage bonus for one mission.
Stabilization Module - Stabilizes weapons while firing and moving for one mission.
Shield Power Cells - Shortens the length of time shields take to begin recharging for one mission.
References