For model ships in Mass Effect: Andromeda, see Model Ships (Mass Effect: Andromeda).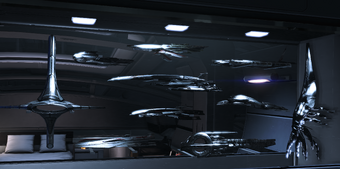 Model Ships are a collectibles feature in Mass Effect 2 and Mass Effect 3 which have no impact on story or gameplay.
Mass Effect 2
[
]
There are a total of eleven models to collect in Mass Effect 2; the first model, the Normandy SR-2, is already on display in the Captain's Cabin on the Normandy. The remaining models can be purchased from various locations, except for the Flotilla Vessel, which is found during Tali's loyalty mission and the Shadow Broker Base which is found during Lair of the Shadow Broker. Once a model is purchased, it will be placed on the model rack. It is possible to obtain discounted prices of the models by speaking to the shopkeeper or completing minor tasks.
Mass Effect 3
[
]
Any models acquired in Mass Effect 2 return in Mass Effect 3, and can be found scattered around the Normandy in the following locations: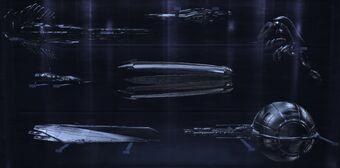 Additional ships will become available at 1,000 credits on the Citadel after completing priority missions. They may be purchased at a 10% markup (1,100 credits) through the Alliance Requisitions in the shuttle bay.
Trivia
[
]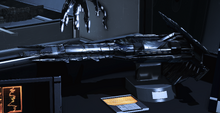 The model you get on the rack after purchasing it in Mass Effect 2 isn't actually a UT-47. It matches the concept of a "human heavy cruiser" from The Art of Mass Effect art book and is identified as an "Alliance Shuttle" in Mass Effect 3. The design can be seen at the beginning of Kasumi's loyalty mission, and appears similar to the vessel that brings in Gatatog Uvenk near the end of Grunt's loyalty mission; but neither of them is explicitly identified.
The set of model space ships somewhat resembles a similar display in the Enterprise-D's Observation Lounge/Briefing room in Star Trek: The Next Generation. A similar display is also visible in the same location on the Enterprise-E in the three Star Trek movies that feature the Sovereign-Class vessel.
In Mass Effect 2, the Shadow Broker Base model is placed on the desk, rather than the model rack. In Mass Effect 3, it is transferred to the second model rack.
The Citadel model rotates on its display; all other models are stationary.
Mass Effect 3: Citadel features a second Normandy SR-2 ship model in Shepard's Personal Apartment. There is also a model of the Citadel as well as a freighter and the old Alliance ship design from the original Mass Effect.