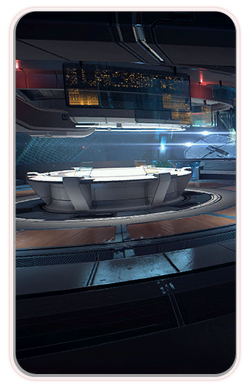 Liam
has a final request before everything is ready for movie night.
Acquisition
Edit
Starts automatically after bringing Dr. Lexi T'Perro's akantha to her.
Walkthrough
Edit
Talk to Liam on the Tempest
Edit
Talk to Liam on the Tempest. He asks Pathfinder Ryder to get hold of a copy of the movie "Last of the Legion".
Locate the movie on Kadara
Edit
Purchase a copy of Last of the Legion from the Mods Merchant in Kadara Port for 10

.
Return the Movie to Liam on the Tempest
Edit
Return to the Tempest and hand over the movie to Liam.
Call the crew together from the Pathfinder's quarters
Edit
Go to the Pathfinder's quarters and call the crew together to enjoy the movie night. Partway through the movie you and Kallo Jath will try to outdo the onscreen turians with live-action sheer overacting, and if you have a romantic partner their head will be resting on your shoulder after a while.
Aftermath
Edit
You will receive an email after movie night.
+530 XP
+400 AVP
Community content is available under
CC-BY-SA
unless otherwise noted.