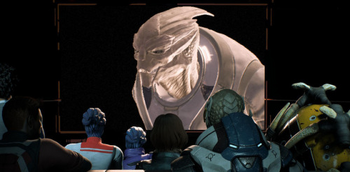 Movie Night is a series of requests from Tempest's crew for the Pathfinder Ryder.
During Ryder's exploration of the Heleus Cluster, Liam Kosta will ask the Pathfinder to organize a movie night to boost team morale. While it sounds like an easy enough request, each of the crew will make their own additions — snacks, better snacks, drinks, a sound system, and a different movie — before getting around to watching the movie. Each request adds a new mission to the series. Ultimately, the requests lead to a movie night aboard the Tempest with all the crew gathered.
Acquisition
Not long after Ryder's visit on Aya, Liam Kosta will start the first mission of the Movie Night mission arc. For the next requests, the following requirements have to be met:
Every dialogue option with each of the crew members has to be exhausted to open up the next mission in the series.
If a crew member speaks about a recent mission, Ryder has to talk to him or her again to trigger the discussion about the movie night.
Each request will also only be available after a specific Priority Ops mission.
Requests are only given in a specific order (see below).
List of Requests
The following missions are only made available once the prior mission has been completed:
Bugs
Parts of the movie night mission chain may fail to trigger if attempted to deal with after completing the main game. This has since been fixed in subsequent patches.[1]
References
Community content is available under
CC-BY-SA
unless otherwise noted.