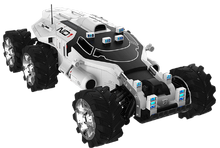 The
ND1 Nomad
is an all-terrain exploration-focused land vehicle utilized by
Pathfinders
as part of the
Andromeda Initiative
to scout out potential
Golden Worlds
for colonization.
Specifications
Edit
The Nomad features twin hydrogen-oxygen fuel cells powering an element zero core, independent suspension for each wheel, and interchangeable four- or six-wheel drive. Like the Mako, it comes equipped with a rear fuel injection booster to propel it forward, and helium-3 microthrusters beneath the vehicle to blast it upward.
The Nomad also comes with the capability to scan planet surfaces for valuable resources and deploy mining drones to harvest those. The maximum achievable speed of the Nomad is 161 km/h.
While on planets explorable by vehicles, the Nomad is represented by the

marker.
Customizations
Edit
Customizable Nomad components include the following:
Thrusters - Hold as much boost fluid as needed for greater maneuverability.
Shields - Additional power cells can briefly generate a protective field around the Nomad to protect the drive and its occupants when exiting the vehicle.
Shield Blast - If the Nomad loses its shield, in a last attempt to preserve shield integrity, the shield power cells will discharge causing an area of effect shockwave that will send nearby enemies flying.
Radar - Highlights enemies in the surrounding area.
Life Support - Provides more hazard resistance.
Paint Job - Customizable depending on environmental circumstances.
Upgrades and paint jobs are available for purchase from certain merchants.
Upgrades
Edit
Upgrades are installed immediately once they have been crafted.
Some upgrades are available for purchase from merchants. These upgrades can potentially cost much less than the total cost of the purchasing the materials for development.
| Picture | Upgrade | Rarity | Description | Acquisition |
| --- | --- | --- | --- | --- |
| | Advanced Detection Systems | Uncommon | Allows the occupants of the Nomad to detect enemies through obstacles at a range of up to 75 meters. | Level 21 |
| | Advanced Life Support | Rare | Installs power cells that can briefly generate a mass effect field around the Nomad to shield occupants as they are exiting the vehicle. | Level 11 |
| | Agility Mode | Uncommon | Allows the Nomad's Stability Assist, which is always on by default, to be disabled, giving an expert driver greater control over the vehicle. With Stability Assist disabled, the Nomad is more agile, but will have less traction when cornering. | Level 6 |
| | Defensive Fortification | Rare | Improves the Nomad's shield strength and frame integrity by 25%. | Level 6 |
| | Emergency Shield Discharge | Rare | When the Nomad's shields are entirely depleted, shield cells will discharge, generating a shockwave that sends nearby enemies flying. | Level 6 |
| | Improved Boost | Rare | Expands booster chambers to provide a longer boost in both drive modes. | Level 11 |
| | Improved Shield Regeneration† | Uncommon | Upgrades the Nomad's shield cells, allowing for faster regeneration without sacrificing effectiveness. | Acquired during Task: Nomad Shield Crafting. |
| | Improved Suspension (4WD) | Uncommon | Increase the Nomad's top speed in 4-wheel-drive mode. | Vehicle Acquisition |
| | Shield Reset Bonus | Common | Upgrades shield cells to reduce the time it takes for shields to begin regenerating. | Level 21 |
| | Supercharged Boost | Ultra Rare | Greatly improved air flow and fuel injection allows for an even longer boost time. | Level 21 |
| | Supplemental Life Support | Uncommon | Upgrades the Nomad's life support system to improve functioning in extreme environments. | Level 11 |
| | Torque Management (6WD) | Uncommon | Improves torque in 6-wheel-drive, allowing for a faster top speed in that mode. | Level 21 |
| | Vertical Thrust Upgrade | Common | Increases the force generated by vertical thrusters by 40%. | Vehicle Acquisition |
†The Improved Shield Regeneration upgrade has known bug issues that have been fixed in patches so that the related mission can be completed. See the bugs section of Task: Nomad Shield Crafting for details.
Paint Jobs
Edit
The Nomad can be customized with different paint jobs that can be changed at a Loadout terminal.
Of the navigable worlds, the only one in which the Nomad is not used is Havarl due to its gravity and small map.
While driving, Ryder's squadmates will engage in random and unique conversations, with different squadmates reacting to different discussions. One point of common reference, however, is at some point everyone will complain that only Ryder gets to drive the vehicle.
The color of the paint jobs can change depending on the environmental conditions that the Nomad is in. For example, on the bright and sunny world Eos, the Midas Touch paint job will appear bright gold, whereas on the dusty lower light world Kadara, the same paint job will appear a shiny muddy-brown.
References
Edit
Community content is available under
CC-BY-SA
unless otherwise noted.