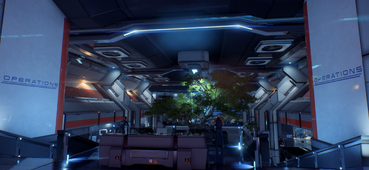 The Operations wing of the Nexus is the main administrative and security hub of the Nexus space station.
The Operations wing of the Nexus is broken down into two distinct sections: colonial affairs on the upper level and operations offices on the lower level joined by a set of wide stairs.
The colonial affairs section includes Foster Addison's office, which looks like the bridge of a star ship with a commanding view of the Nexus' two long arms extending off into space. Additionally, the offices of Nakmor Kesh, Nexus Superintendent and Jarun Tann, Director of the Andromeda Initiative are located nearby. This area also connects to the Pathfinder HQ section.
The operations section contains militia offices, security offices and holding cells for criminals. There is also a temporary science area where Professor Herik and his team do research to aid the Initiative. Tiran Kandros, Nexus security chief, can be found in the militia office along with a terminal for Strike Teams missions. Liam Kosta can also be found hanging out in the militia office. There is an arms dealer near the prisoner holding cells that sells a limited stock of weaponry and upgrade modules. This area also connects to the tram system for travel to the Hyperion and other parts of the Nexus.
Datapads
Edit
Found in Nakmor Kesh's office on a table:

Found in the militia office on a counter top:

Message traffic found on the security terminal:
Community content is available under
CC-BY-SA
unless otherwise noted.