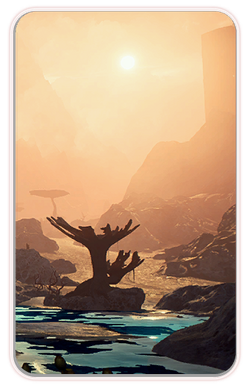 Before an
outpost
can be established on
Kadara
, you must solve Kadara's water toxicity problems and quell the escalating rivalry between the
Outlaws
and
Collective
.
Acquisition
Edit
The mission starts automatically when Pathfinder Ryder gets close to the suitable place for an outpost

- the lake at Charybdis Point.
Walkthrough
Edit
Several objectives have to be achieved before the outpost can be established. Some of them include other objectives which are not mentioned. In principle, the objectives can be completed in any order. Regardless, it seems impossible to settle without permission from Sloane Kelly. The Collective might be an alternative, but their leader is anonymous. Speaking with Reyes Vidal about it might bring up some ideas.
Find an outpost site
Edit
Go to the lake at Charybdis Point.
Reach 40% viability on Kadara
Edit
Stabilize Kadara's environment by resetting the vault
Edit
Complete the Healing Kadara's Heart mission.
Work with Reyes
Edit
Complete the missions A People Divided and Precious Cargo.
Look for signs of violence between rival factions in Kadara Port
Edit
Complete Murder in Kadara Port.
Ask Outcast leadership about trouble on Kadara
Edit
Talk to Kaetus in Sloane's room in Outcast Headquarters.
Help Kaetus with the kett on Kadara Edit
Complete Behind Enemy Lines.
Complete Modern Medicine.
Help Dr. Nakamoto retrieve the formula
Edit
In the Modern Medicine mission you must have chosen to give the formula to Dr. Ryota Nakamoto.
Finish any of the missions A People Divided, Behind Enemy Lines, and Precious Cargo.
Check your email and respond to Reyes
Edit
Reyes wants you to go to Sloane's party with him.
Attend Sloane's party with Reyes
Edit
If you accept Reyes' email invitation above, you gain the Night on the Town mission.
ON HOLD: Wait for trouble to come calling
Edit
Leave Kadara Port via the Kadara Slums and Sloane/Reyes will contact you. This section disappears upon completion.
Meet Sloane or Reyes
Edit
Complete the High Noon mission to determine who wields authority over Kadara.
Create an outpost
Edit
Once all prior objectives are completed you will finally be able to speak to the person in charge for permission to settle on Kadara.
Aftermath
Edit
The outpost's name is Ditaeon. Speak with Christmas Tate in the eastern building in the outpost find out what it means.
Community content is available under
CC-BY-SA
unless otherwise noted.