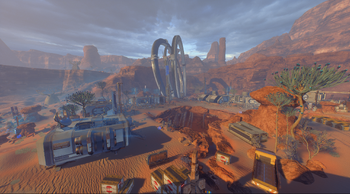 Site 1: Promise is the site of the first Andromeda Initiative Outpost on Eos. The site was chosen due to its proximity to a water source, but it was soon discovered that the water required non-standard decontamination to become usable. The site was initially abandoned by the Initiative when the planet was found to be too difficult to survive on due to both natural and unnatural threats. A second attempt to create an outpost by the Initiative was named Site 2: Resilience. Site 1 is also the landing site of Pathfinder Ryder's first mission to gain a foothold on Eos for the Initiative.
Even after the radiation issue is dealt with and Prodromos settled, and despite its buildings being intact, Promise remains virtually abandoned.
The site consists of U-shaped cluster of small structures surrounding a small water feature and a power relay station to the southeast on a ridge. The village is surrounded by barriers that help to keep out the hostile environmental radiation caused by the remnant structure until Ryder is able to shut its operation down. To the far west is a large ring-ed structure designed to generate drinking water. Some of the doors are sealed shut until Ryder restores power to the site during the mission A Better Beginning.
A Research Center is located in the small northeastern building, beside the ND1 Nomad crate, where weapons and modifications can be developed or researched as on board the Tempest.
Scattered among the structures are various minerals, especially Fluorite and some Cadmium, containers of loot, and scanable objects.
Residents
Edit
Promise's sole known resident is Clancy Arquist, first encountered during A Better Beginning. He remains in Promise as a merchant, although he is not identified on the map as such.
Missions
Edit
The following Priority Ops missions take place or are acquired at Site 1:
The following Allies and Relationships missions take place or are acquired at Site 1:
The following Heleus Assignments missions take place or are acquired at Site 1:
The following Additional Tasks take place or are acquired at Site 1:
Datapads and Terminals
Edit
On a desk inside a structure on the southern side of the site:

On a terminal in one of the western most structures of the site, accompanied with an audio log:
On a terminal in one of the northern structures of the site, there is an audio log in this same building:

On a terminal in a room unlocked after power is restored:

On a desk in the research center, unlocked after power restored:

Terminal on the Forward Station after it is called down: