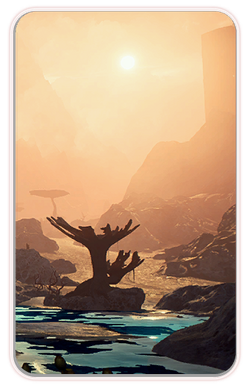 While exploring
Kadara
you found a settlement littered with dead
angara
.
Acquisition
Edit
The mission starts automatically when you travel along the path leading to the northwestern Kurinth's Valley region and get close to the first building. Two navpoints
will be added inside the nearby buildings.
Walkthrough
Edit
Search for clues to angaran deaths
Edit
Scanning the bodies inside the first building shows that the cause of death was the drinking of unfiltered water containing sulfuric acid. That's strange, because the angarans have lived a long time on this planet and know better than to do that. SAM suggests investigating the water supply.
A datapad in the same building indicates that the angarans were selling food and water.
One of the items to scan is an encrypted datapad that has logs from one of the angarans. The Outlaws tried to figure out how to build their own water filters and they were caught sneaking around the angaran filters. Some outlaws have set up some shacks to the south calling it Charybdis Point. The outlaws showed up demanding the angarans hand over the water filters but the angarans were able to drive them off.
There is a container in the building with the encrypted datapad.
In the other building, scanning the water filters is the other item that reveals that someone has tampered with the quality meter and filters just enough to poison the angarans slowly over time. The obvious suspects are the outlaws at Charybdis Point.
Scanning the Filtration Equipment awards +10
.
There are several datapads in the buildings that shed light on what has happened.
On the countertop is a datapad.
In room on the upper floor of this building is an Angaran Integrated Tech Node that can be scanned for +100
. There are two datapads in the room on the upper floor:
Once both clues have been found, Ryder can travel to the south to Charybdis Point.
Search Charybdis Point for evidence
Edit
Speak to Mallox. The place is some sort of low grade hotel (SAM recommends not touching the sheets). Also they sell clean water but he denies any knowledge of the water poisoning.
In the room with Mallox is a terminal with multiple entries and a container that can be looted.
On the bottom floor is a Crate with water filters made by the angara. This is the proof that proves Mallox and his crew stole filters and poisoned the angarans.
Defeat the exiles responsible
Edit
Mallox enters the room and a fight starts. Defeat the enemies.
In the room with the water filters is a datapad.
In the other building, there are two datapads:
Community content is available under
CC-BY-SA
unless otherwise noted.