You discovered a weapons cache on Kadara. Continue to scan caches to determine their destinations.
Acquisition
[
]
Amongst the outlaw camps, Pathfinder Ryder will find the first weapons cache when SAM alerts Ryder to it. Scan the cache to start the mission.
Walkthrough
[
]
Scan Weapons Caches
[
]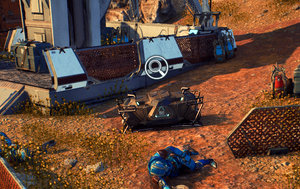 You have to find two additional caches. The caches are spread randomly among the camps. Each cache will be marked with

. If a camp doesn't have a cache, the camp might have one the next time Ryder visits. If a camp has a cache, SAM (or a squadmate) will comment on the presence of the cache.
When Ryder has found three caches, the mission will update to the next objective.
[

]
Travel to the navpoint
in Spirits' Ledge. Ryder arrives in the middle of a fight between the Collective and the Outlaws. Use the datapad at the navpoint.

Someone has been hoarding weapons for an attack on Prodromos.
Search For The Message Source
[
]
The message source is from a nearby building. Outlaws are there. SAM detects explosives nearby.
There is an Adaptive Remnant Core Device to scan for +100
underneath one of the platforms.
Defeat The Outlaws
[
]
The Outlaws have two Hydras and reinforcements will arrive via airship.
Prevent The Shuttle From Leaving Kadara
[
]
Shoot the marked explosives

next to the shuttle. This triggers the rewards for the mission.
Rewards
[
]