M-8 Avenger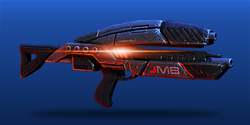 The M-8 Avenger is an assault rifle fielded by numerous forces across the Milky Way and beyond. It is favored by military groups and mercenaries alike due to its reliability, ease of use, cheapness, durability, and upgrade possibilities. Some grizzled killers like Zaeed Massani owe their reputation to such a rifle, and even Commander Shepard fields the weapon more often than they thought - indeed, the Commander is almost always shown with the Avenger on critical mission events even if they brought a completely different arsenal entirely. more...
Community content is available under
CC-BY-SA
unless otherwise noted.