Menae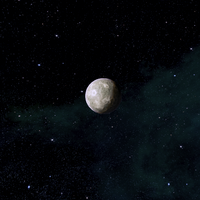 Menae is the largest of two moons orbiting the turian homeworld of Palaven. At the dawn of the turian space age, Menae was placed under the jurisdiction of the Turian Hierarchy military soon after the turians completed their first manned mission there, immediately halting civilian research and exploration. Menae became even more shrouded in secrecy during the Krogan Rebellions. Fearing a krogan attempt to crash Menae and its sister moon Nanus into Palaven's surface, the Hierarchy classified all data on Menae, including its exact mass, diameter, and geological composition. Over time, Menae has been shaped into a significant turian military stronghold. Leaked information has revealed tantalizing hints of naval bases, outposts for infantry extreme survival training, subterranean tunnel networks, and mass effect field generators to trap heat and breathable atmosphere over patches of the moon's otherwise inhospitable surface. Meanwhile, speculation about Menae's allegedly vast reserves of rare mineral resources has tenaciously embedded itself in turian popular culture. more...
Community content is available under
CC-BY-SA
unless otherwise noted.