Acts like he knows things. Sometimes it's true!
Works in the Willis Sears Tower in downtown Chicago. What a view!
Has a Bachelors of Science in Computer Science from the University of Illinois at Urbana–Champaign
Plays Mass Effect on PC.
Last console owned was a Genesis.
Just rediscovered this commercial for Mass Effect. Something about it is just so awesome. I remember being sad that I'd be unable to play it, since it was an xbox-exclusive title at that point. Now that's effective marketing. 425px
Screenshots
Edit
I'm somewhat working on writing a guide to taking good screenshots. I don't mean artistically, just technically. Stuff like removing the HUD from the game, decoupling the camera from Shepard's shoulder, things of that nature. I try to take aesthetically pleasing screenshots, but I don't have any formal training in photography that would grant me any authority to say if one screenshot is objectively better than another from an aesthetic viewpoint. I do try though. :) If you're interested in a screenshot guide and I still haven't written it, yell at me on my talk page. If you have screenshot requests, I'd be happy to try and oblige those as well.
I'll post some of my favorite screenshots I've taken here, but have been unable to find a suitable place in an article. The first such picture is an alternative shot from
Dossier: The Professor
, when the Blue Suns and Vorcha are fighting. This vorcha just looked so pleased that he was about to set the Blue Suns Trooper on fire that I had to get a picture of him. Click on the picture to enlarge it. Clicking on the little magnifying glass in the lower-right of the box that pops up leads you to the file page, where you can download the full 1280x720 size of it.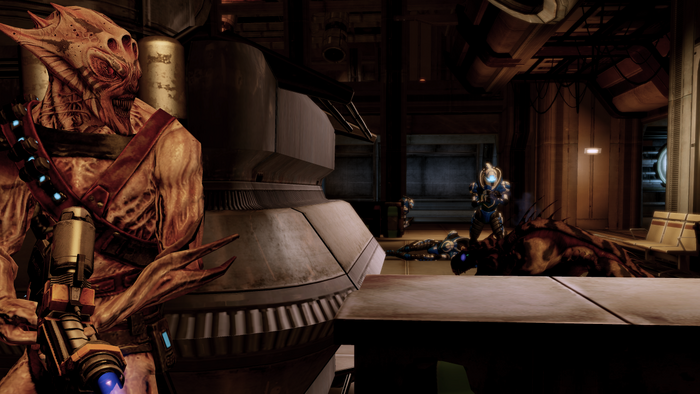 Current/Ongoing Projects
Edit
Things I'm working on procrastinating about.
Sandbox main page. I'll organize this stuff at some point:
My sandbox
My contributions
Edit
My favorite pages
Edit
Community content is available under
CC-BY-SA
unless otherwise noted.